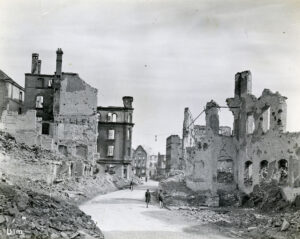 Early
this morning, I had a high definition dream that seemed longer and more real than most. I was being driven through a  landscape of decaying and ruined buildings that I recognized as parts of buildings I had leased or worked in during my lifetime. The scene resembled the aftermath of a devastating tornado or a bombed-out industrial site. Of course, each recollection of past failures had, attached to it, regret and pain. It didn't take long to realize this was my life in review – as I am apt to review it on a bad day. As the dream ended, I climbed through the rubble, becoming trapped on a life-threatening precipice(no surprise). This dream was a more complete version of many smaller "dreams of shame" that have come my way – seemingly to remind me of where I have fallen short.
This time, the provocative scenario  demanded contemplation, prayer – and a weighed response.
My response came from my reading of a passage from the Prophet Isaiah. It speaks of a promised exchange….
Isaiah 61:1-4 NIV
The Spirit of the Sovereign Lord is on me,
because the Lord has anointed me to proclaim good news to the poor. He has sent me to bind up the brokenhearted, to proclaim freedom for the captives and release from darkness for the prisoners, [2] to proclaim the year of the Lord's favor and the day of vengeance of our God, to comfort all who mourn, [3] and provide for those who grieve in Zion—to bestow on them a crown of beauty instead of ashes, the oil of joy instead of mourning, and a garment of praise instead of a spirit of despair. They will be called oaks of righteousness, a planting of the Lord for the display of his splendor. [4]
They will rebuild the ancient ruins and restore the places long devastated; they will renew the ruined cities that have been devastated for generations.
Two narratives :
1. Failure and Ashes  vs.
2. Restoring and Rebuilding Generational Ruins, Displaying God's Splendor.
Why rebuild?
Why should we start… again?
Why should we expect a different result? Why should we expect the strength and help to be there when it is needed?
We build, we start again expectantly because God has, in Christ, announced us to be "builders", "comforters", "the planting of the Lord" (Isaiah 61).