Home automation.  A quiet HVAC system.  Consistent temperatures.  Not the most exciting subject matter at first listen, right?
That's what our client wanted to get people interested in.
Add to the mix the fact that the permanent home of the display would be in a high-end kitchen and bath gallery.
Could we 1) draw people in, 2) educate on the subject matter, and 3) avoid looking out of place in a sleek showroom?
We decided to snag interest through the element of surprise. By using a motion sensor to trigger a video, the embedded monitor changes from an HVAC unit façade into an animation.
The animated text gives the person who trips the sensor a short lesson on both the advanced HVAC system (quietest on the market!) and controlling your home (from any mobile device!).  It then invites them to explore more FAQs using the attached tablet.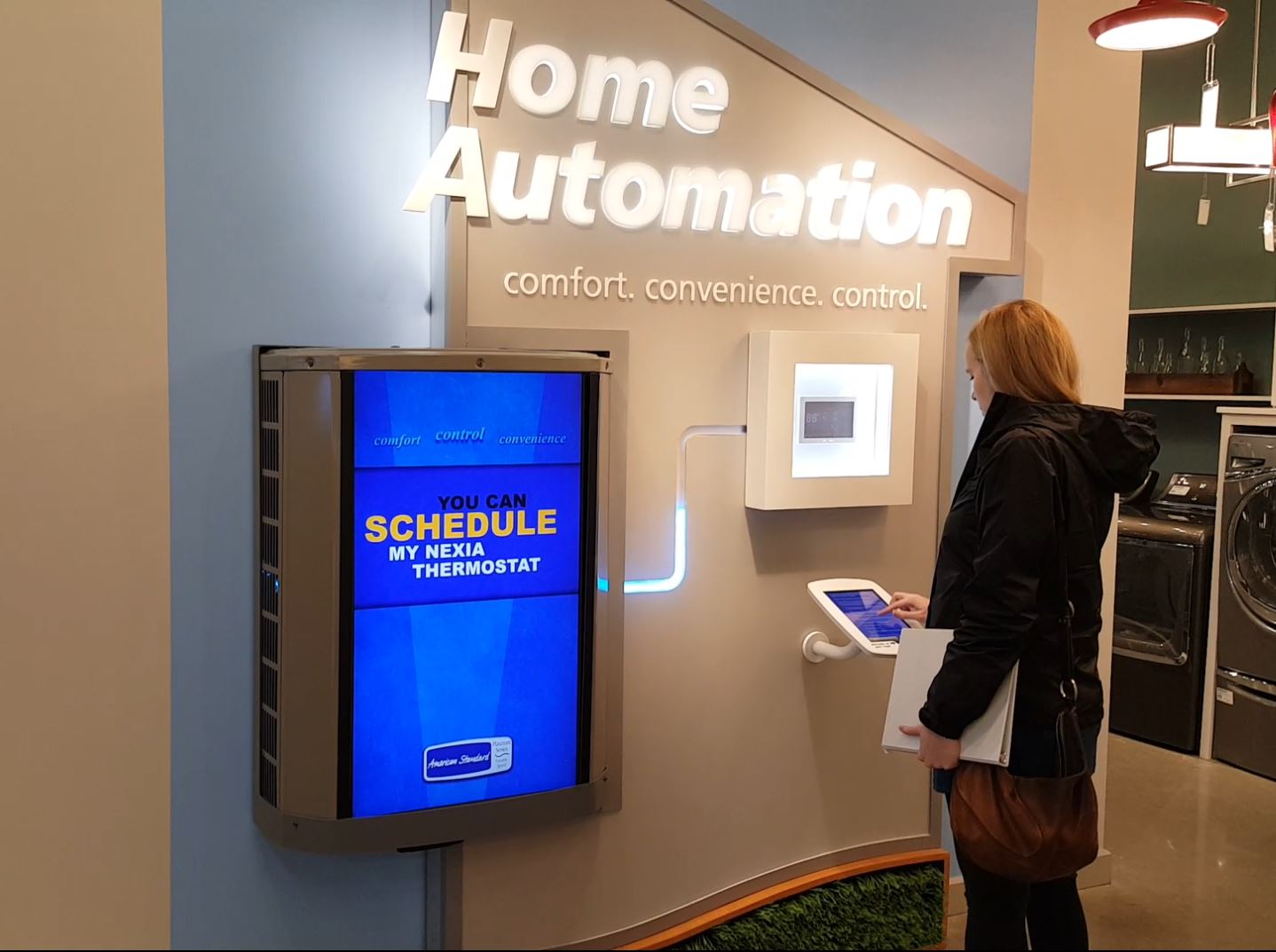 The infrared motion sensor (include info on it) trips a video loop and a programmed "chasing" sequence on the LED strip. The line of LEDs is meant to draw your eye to the smart thermostat – which visitors can program up or down.
When Ferguson came to us, they had already been pitched a concept. That concept featured an iPad stand in front of a printed image of a living room.  Considering the sleek showroom this was going into, we wanted to keep the "home" imagery, but respect the surroundings with something more fitting.
Renderings of Ferguson's new showroom in Newport News, Virginia
We used a frosted acrylic "house" façade surrounded by a powder-coated aluminum frame and anchored by faux grass.  Backlit acrylic lettering made up the header.
The thermostat was placed in a lightbox to discourage tampering with the settings.  Visitors are encouraged to manipulate the thermostat through its app, which is located on the iPad below it.